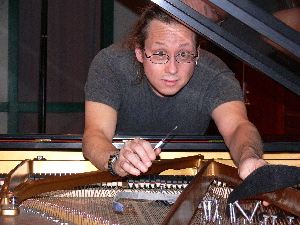 B. Allen Schulz (b. 1964) is the great grandson of the famous vaudevillian and Chicago jazzman, Ollie Powers. He studied music composition at Wabash College, Yale University, and The City University of New York. His primary composition instructors have been Eric Lund and Charles Dodge.
Allen's musical interests are eclectic and varied. His compositional activities range from music theater to experimental computer-generated music; from arrangements of sacred music for use in worship services to large-scale works for orchestra. He has been commissioned to compose music for groups as diverse as the award-winning Minimum Wage theater troupe, secondary school ensembles at the Baccalaureate School for Global Education in Queens, NY, The Lost Dog New Music Ensemble, The Round Rock Symphony Orchestra, Iktus Percussion Ensemble, the Parthenia Viol Consort, Anubis Saxophone Quartet, the Quintet of the Americas, Voces Novae et Antiquae Chorus, and others.
Allen works as a consulting editor for the G. Schirmer Music Publisher new works and premieres department. He is proud to be an integral part of the musical scene in his own neighborhood: he has volunteered his time teaching music theory and performance at a local high school and presently helps to teach violin performance at a local Queens grade school.
Allen is the founder of Random Access Music, a consortium of New York City-based composers who manage and present performances of their own music in collaboration with new music performance ensembles. In 2012, Allen founded, organized, and led the production of the Queens New Music Festival–a festival featuring 9 different new music ensembles performing works written in the last 50 years. The festival is now an annual showcase of some of NYC's best emerging new music ensembles and performers. Allen continues to be deeply involved in supporting all of the arts in his community by volunteering his time and energy for cultural groups ranging from schools to orchestras to theaters.
Allen is interested in composing for all types of ensembles, and he is comfortable working with experimental compositions as much as he is with simpler and more accessible genres, such as music written specifically for children. His awards include the The John Cage Prize in Experimental Music, Finalist in the National Flute Association's "Best Newly Published Work for Solo Flute (2011), and high honors in the University of Oregon Waging Peace Through Singing choral competition.
Allen lives in Astoria, Queens, with his daughter, Naomi; and his partner, Rebecca. He enjoys traveling with his family as often as they can–particularly to places that have ecological or natural treasures. Allen is an avid scuba diver–holding a certification as a rescue diver.
In 2014, Allen suffered a cardiac arrest, which left him in a coma for 29 days. When he emerged from the soma, he was blind, couldn't stand or walk, and had memory problems. With hundreds of hours of therapy, from physical, to occupational, to cognitive, to speech, to vision, and cardiac, he began composing again in 2020.